Dining Tables – Classica Clear Glass Dining Table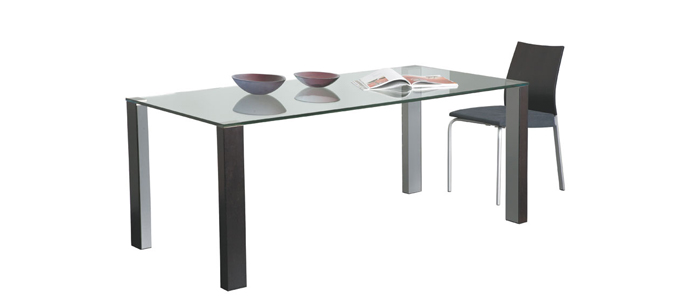 Materials: clear 12mm tempered glass top, anodised aluminium legs with glossy polyurethane or European oak veneer trim
Click here to view our store locations
 Or contact Beyond Furniture on 1300 11 22 33 for further details.
Features:
The Classica is named after its classic form, an elegant clear glass dining room table, with the anodised aluminium detail in the leg giving it a modern edge; the Classica would suit any interior style and offer an enduring classic style over the years.
The legs are available in a choice of colours, and feature either glossy polyurethane or European oak veneer on the outward facing panels, and a brushed effect silver anodised aluminium on the inner panels.
The Classica is available in a large range of sizes, and square options, and is complemented by a range of coffee tables, side tables and console tables.
The Classica is particularly suited to small rooms where you want to maximise seating, the clear glass means the table appears smaller.
The glass top is securely attached to the legs via a long screw that runs the entire length of each leg, there is no safety concern for children who may pull on the glass top. Click here to find more information on our contemporary dining tables in Sydney.
Internal Construction: tempered clear glass top, anodised aluminium connection plate and legs, Glossy Polyurethane (Australian MDF with 6 layers of Italian Polyurethane paint) or European Oak Veneer, plastic feet caps
Contact Beyond Furniture on 1300 11 22 33 for further details.