Buffets – Ottawa Oak Veneer And Chrome Buffet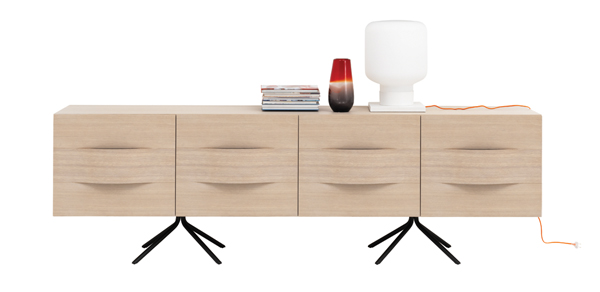 Ottawa sideboard, the product is available in different colors. Shown color, oak veneer/chrome. H74½xW240xD54½cm. [Ottawa – S015] Article no.: 3700091S0155858
Click here to view our store locations
 Or contact BoConcept on (02) 9437 0066 for further details.
Take A Peek Inside Karim Rashid's Home

NY Mag takes us on a tour of BoConcept designer Karim Rashid's "rose-tinted hell's kitchen home". Rashid designed the Ottawa collection, including the much adored Ottawa sideboard seen in his buffet living room furniture. Rashid says "I want my designs to support the idea of getting more out of life. I really think the Ottawa collection as a whole captures this spirit with its sensual minimalistic design that works and touches you at the same time." With a knack for creating unique and completely original furniture designs, Karim Rashid remains one of BoConcept's most prolific designers.
The Ottawa also comes in an oak veneer for those who love the organic shape and unique quality of the sideboard, but desire a more relaxed and neutral style. Rashid's home packs a powerful punch. With bright pinks, greens and purples setting the mood, Rashid has softened the look with plenty of white pieces, including the Ottawa contemporary sideboard.
Features
our sideboards can be customised and offer different sizes, fronts and colours for an individual storage solution
create a personal expression by mixing different colours
Delivery
Our customisable sideboards are produced upon order. Standard delivery time is 10 – 12 weeks. Please contact your store for more details.
Materials
our board furniture is mainly made of particle board. However, MDF (medium density fibreboard) is primarily used for furniture with organic shapes
our veneers have a coating of lacquer to make a more smooth and longlasting finish. The lacquers we use are mainly waterbased so they have a strictly limited impact on the environment
all veneers come from North American plantations
Care instructions
wipe clean with a cloth dampened in a mild cleaner
wipe dry with a clean cloth
Enquiry Form