Bar Stools – Torup White Bar Stool With Gas Cartridge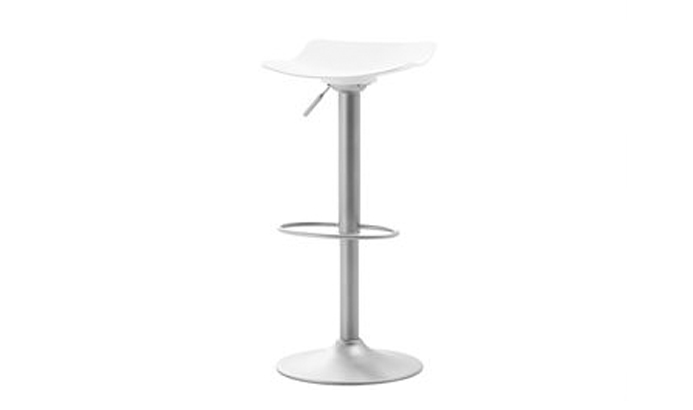 Torup barstool with gas cartridge, white plastic/brushed steel. H59½-84½xW37½xD41cm. [Chairs – 1960] Article no.: 402019600035094

Click here to view our store locations
 Or contact BoConcept on (02) 9437 0066 for further details.
Raw Simplicity

Located over the inlet to Stockholm, this 60th century villa was designed with the incredible view in mind. On an undisturbed dead end street, the villa enjoys a large terrace, infinity pool and 425 square foot of pure architectural bliss. Modern materials are combined with a natural palette of soft greys, whites and browns to reflect the surrounding landscape. We would move here immediately if given the chance. One can dream right?
The styling of the kitchen has been kept to a minimum as to not distract from the amazing lake views. Lining the kitchen bench bar stools in white reflect the simple and organic architecture of the villa with their curved seats and neat brushed steel bases.
Now discontinued, the Milos sofa definitely adds to the aesthetic of this serene home. Similar to the Philly sofa, it's low lying form, angled armrests and exclusive stitching details give it an informal yet sophisticated vibe, allowing it to be dressed up or down depending on the style of your home.
Features
most of our bar stools have gas cartridge so you can adjust the seat in different heights
go with a bar stool with a backrest for more comfort
Delivery
Standard delivery time is 10 – 12 weeks. Please contact your store for more details.
Materials
The choice of material depends on the design of the individual chair. Please contact your store for further details
Care instructions
Fabric:
ordinary cleaning: vacuum frequently and use BoConcept textile care products for general cleaning
all fabrics can be dry-cleaned
Leather:
for general cleaning just use a dry soft cloth
we recommend using BoConcept leather care products 2-3 times a year
Contact BoConcept on (02) 9437 0066 for further details.