Our range of modern bar stools are from designer furniture retailers which include designs with or without backrests, adjustable height gas lift, foot rests and a choice of finishes. You can customise your bar stool with a choice of plastic, timber, fabric or leather. Or choose our Scandinavian Vig stool with walnut legs.Pick your favourite model from our contemporary range of bar stools and customise it according to your preferences. Some models are fitted with a comfortable backrest. This makes sitting even more relaxing and enjoyable. Or you can choose a classic barstool without backrest. Many of these modern stools are also height-adjustable making it possible to fit to your exact preference and body size. For even more comfort, see our bar stools equipped with a footrest. To express your individuality, you can select from several options when designing your bar stool. Not only is there a choice of different models, but colour and type of fabrics and leathers can also in some cases be customised. Choose between an array of colours for a comfortable and stylish fabric or an elegant and modern leather.
Find Bar Stools in Sydney
You can find the bar stools listed here are from associated furniture retailer- BoConcept. Most of these modern bar stools will direct you to the furniture retailer in which you can either purchase from their online store, or visit one of their furniture stores located across Sydney. The modern bar stools listed here are delivered all across the Sydney region- conditions may apply.
The Adelaide modern bar stool by BoConcept brings a combination of beauty and comfort to your breakfast bar. It is available in two models; adjustable swivel base with gas cartridge, or tall standalone legs, the choice is yours! The Adelaide swivel bar stool is customisable with a range of premium ...
Read More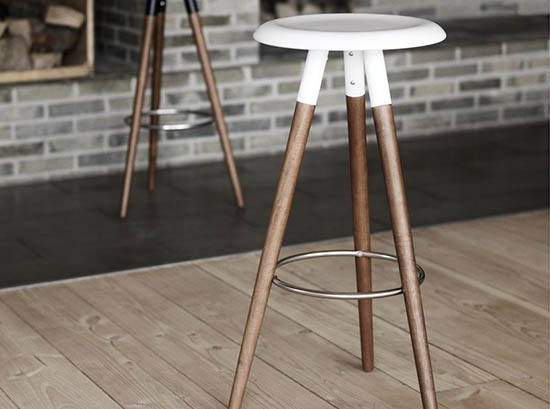 The Vig modern bar stool by BoConcept offers a beautiful Nordic design for your kitchen. It features angled wooden legs, a curved seat, and stunning contrasting colours that bring a Scandinavian feel to your home breakfast bar. Choose from either white lacquered or black lacquered seat tops, with brushed walnut ...
Read More