Bar Stools – Adelaide Blue Colorado Leather Bar Stool With Gas Cartridge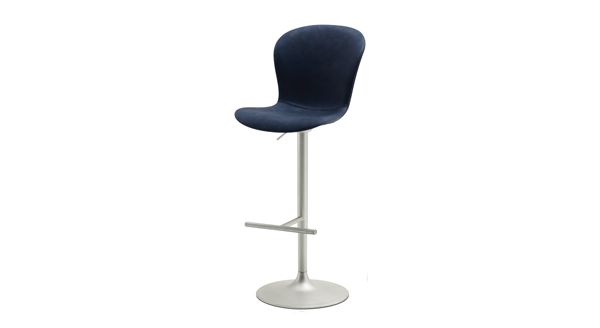 Adelaide barstool with gas cartridge, the product is available in fabrics and leathers. Shown colour, blue Colorado leather 5033/matt black lacquered/brushed steel. H104/128½xW45xD57½cm. [Adelaide – B008] Article no.: 4025094B0085033
Click here to view our store locations
Or contact BoConcept on (02) 9437 0066 for further details.
Concepter Case: New York

We decorated this amazing apartment just for you! To be more accurate; Our talented Concepter Gerald Posley did. Gerald thought that the breathtaking view of the NYC skyline was a perfect setting for an exquisite and lush styling with saturated and rich colours and surfaces. And guess what? This apartment showcases our latest dining chair and modern bar stools, the Adelaide, in three different settings. Can you spot them all?
As a Concepter Gerald always stresses two things. The first one is light. Let in the natural light and add lamps to every dark corner besides, of course, by your tables and armchairs. The second thing he focuses on is functionality. Choosing functional furniture with great storage solutions will make tidying up quick and easy and extend the square footage of the space.
One of our latest designs, the Adelaide chair, can be seen in three of the rooms of this apartment. In the dining room, bedroom and the kitchen. Working as a elegant dining chair, a comfortable office chair and a modern bar stool, the Adelaide can be customised in a variety of colours, upholstery options, leg designs and with or without armrests.
The Adelaide chair has a cool, distinct design expression with its curvy lines that takes its inspiration from the acorn where two curved parts are beautifully combined. The bar stool version also has a gas cartridge so you can adjust the seat in different heights and a backrest for additional comfort.
Features
most of our bar stools have gas cartridge so you can adjust the seat in different heights
go with a bar stool with a backrest for more comfort
Delivery
Standard delivery time is 10 – 12 weeks. Please contact your store for more details.
Materials
The choice of material depends on the design of the individual chair. Please contact your store for further details
Care instructions
Fabric:
ordinary cleaning: vacuum frequently and use BoConcept textile care products for general cleaning
Easy care material:
use of textile care products is not recommended
easy to clean
not suitable for dry cleaning
Leather:
for general cleaning just use a dry soft cloth
we recommend using BoConcept leather care products 2-3 times a year
please note that BoConcept textile care products should be used for Coloroda leather
Polypropylene plastic:
wipe with a cloth dampened in a mild cleaner
wipe dry with a clean, dry cloth
Ideal for the kitchen, bar stools are practical furniture pieces for casual entertaining and meals on the go. Adjust the height of our modern bar stools for flexibility and long-lasting comfort. Choose one of our bar stools with a back rest for optimum back support and comfort.