The top 5 extendable dining tables Sydney
Do you have guests staying over the Christmas period and need extra space at the dining table? We've selected our top 5 extendable dining tables in Sydney, to make it easy for you to know where to find the best modern dining tables for those holiday gatherings. The benefit of having an extendable dining table, as that it isn't about the size of the table but how smart and flexible it is. We've based our selections on these key factors – design, practicality and quality.
Harvey Norman – Dallas extendable dining table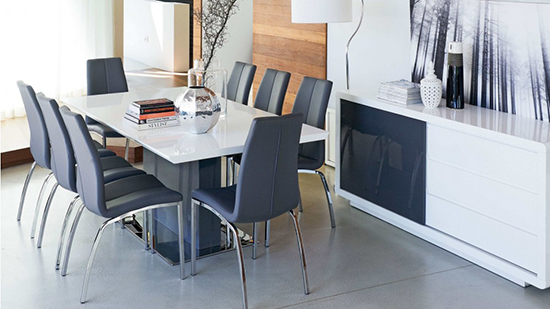 Designed for entertaining and hosting big groups, the Dallas 9 piece extensions dining table is contemporary in design and solid in structure. It can be extended by 50 cm when transitioned into a larger table for extra guests. On the upside, it isn't just a standalone dining table but is also part of a range with matching accessories to go with it as an option such as coffee table, lamp table, entertainment unit and buffet etc. On the downside, the table is only available in white so doesn't offer any customisable features of its own.
http://www.harveynorman.com.au/furniture-outdoor-bbqs/dining-room/dining-furniture/dallas-9-piece-extension-dining-setting.html
Temple & Webster – Oslo Extension Dining table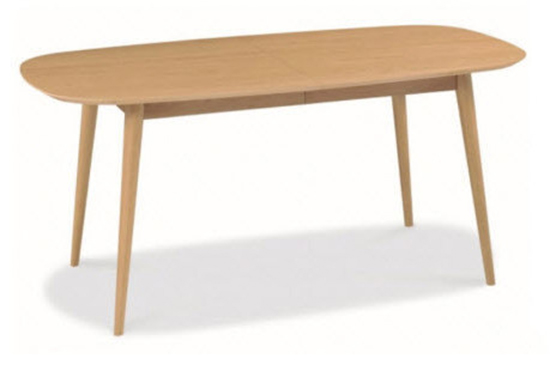 The Oslo extension dining table is a Scandinavian style dining table with organic lines and practical detailing. Injected with a slightly retro feel from the mid-century with a touch of Scandi, it uses materials such as walnut veneers and beech solid wood to give that popular retro Nordic feel. It has specially designed mitre joints for ease of movement when extending as well as feature handles and looks great with a range of dining chairs. On the downside, it is a lighter style of dining table and may not be the best choice for a young family, where wear and tear is par for the course. You may want to seek a sturdier option.
http://www.templeandwebster.com.au/Oslo-Extension-Dining-Table-3464-3299-SOFA1133.html
Nick Scali – Latitude extendable dining table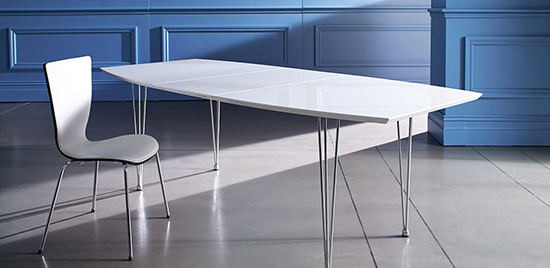 The Latitude extendable dining table consists of a white gloss finish table top and hair-pain metal legs that are reminiscent of decades gone by, offering a slightly retro feel but with the use of modern materials. The benefit of this dining table is that it extends to a lengthy 270cm at its full length. It also has attractive angled edges that slope inwards from top to bottom, which gives it a subtle feminine quality. It extends from a supplementary middle section and can either seat 4, 6 or 8 guests at a time, which is a bonus. On the downside, while its design is fashionable, it may date faster than a more classically designed table, so think about how much you're willing to invest if you think you may need to upgrade your dining table in the next few years.
http://www.nickscali.com.au/latitude-dining-table.html
Ikea – Dropleaf extendable dining table
Made from bamboo and finished in clear acrylic lacquer, the Dropleaf dining table from IKEA is a budget friendly option for a small apartment, where space is quite limited. It is reminiscent of the 1950's in its aesthetics but is made with modern environmentally friendly bamboo, which grows quickly and resembles teak in appearance. This dinky little dining table goes from a 2 seater to a 4 seater with minimum effort and looks cute too. While it offers a lot of bang for your buck, it is small and due it being a flat pack piece of design will need the screws tightened over time – so keep your spanner handy and all will be well!
http://www.ikea.com/au/en/catalog/products/00206807/
BoConcept – Milano extendable dining table
The Milano extendable dining table is one of BoConcept's best selling tables. It combines stunning free flowing organic Scandinavian lines with a durable inner mechanism that allows you to extend with immense ease. The Milano extendable dining table is available in a range of colours, finishes and leg/base options, depending on the look you want and the seating arrangements of your guests. There are 2 different base options, a centre base, which means you can have guests sitting anywhere on the table without worrying about table legs getting in the way. Or if you go with wooden legs, you'll still have ample legroom but with the added aesthetic feature of gently sloping legs, which is quintessentially Danish in style and adds a beautiful aesthetic element to your dining space. The beauty of the Milano is that is can go from a 4 seater to an 8 seater in 10 seconds because of its smooth inner mechanism that can be extended with just one hand manoeuvre! On the downside, this is a more expensive dining table option but is very much a case of invest more upfront and avoid problems down the line. This table will stand the test of time aesthetically as well as in its durability.
Browse the full range of BoConcept extendable dining tables online or you can also pop into one of their Scandinavian furniture stores Sydney in either Moore Park or Crows Nest to view the current collection for yourself.