Dining Tables – Incavo Glossy White Dining Table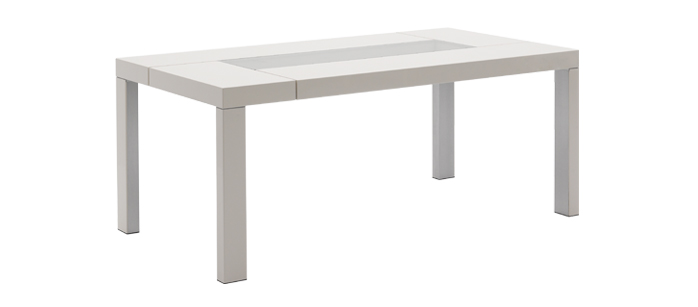 The Incavo has a clean look exemplified by its strong lines, glossy materiality and glass display centrepiece leaving the table top uncluttered and free from mess. The transparent glass ties in beautifully with the glossy polyurethane creating a chic presence in any interior space.
Materials: glossy polyurethane with anodised aluminium details and clear glass
Click here to view our store locations
 Or contact Beyond Furniture on 1300 11 22 33 for further details.
Get The Look With The Incavo Dining Table
Simple, open and elegant are three words to describe this home in Pymble, one of the beautiful and leafy northern suburbs of Sydney. High ceilings and an expansive area definitely call for bigger furnishings, anything else looks inadequate. To accommodate the large open plan layout of the home, larger and heavier furniture pieces have been chosen for this home creating a sophisticated and classic aesthetic. You'll find the Incavo from Beyond Furniture's modern dining table collection in this space also.
Three major Beyond Furniture products that we have spotted in this Pymble home include the Incavo Square Dining Table, a set of 8 Roma Black Leather Dining Chairs and the luxurious Rusco Leather Sofa. Each piece complements the elegant and grand nature of the space, with an emphasis on hard-wearing materiality, unique yet timeless designs and versatile colour options to coordinate with any home style.
1. Beyond Furniture Incavo Square Dining Table $1950  2. Beyond Furniture Roma Black Leather Dining Chair $599  3. Fragment Stream Painting $450  4. Beyond Furniture Rusco Sofa Package A $3995

The great thing about the home is that is demonstrates that you don't need to completely fill the space up with furniture and accessories for that 'finished' look that we're all after. The interior designer has picked out the essential pieces in the appropriate size to suit the open plan nature of the space. Perhaps, a little more colour could be injected into the space with a bold canvas artwork or a collection of glass vases.
Features:
The Incavo dining table features a striking modern look with a clear glass feature in the middle and anodised aluminium accents on the surface and the inside of the legs to give the table a modern aesthetic
The 1800×950 size can seat up to 6 comfortably, the generous width ensures people seated on the ends will be comfortable.
The Incavo is suited to modern, open-plan dining rooms, or formal dining rooms; it is also a stylish option for a board room table.
The glass feature in the centre can be used for decorative items, under the glass, or Vases can be displayed with a wonderful effect on top of the glass.
The Incavo can be complemented by coffee tables, side tables and console tables from the same range, and is also available in a rectangle version.
Table Size Guide:
1800x950mm: 4-6 people
Internal Construction: Australian MDF with Italian Polyurethane paint finish (6 coats, 3 base coats, 3 top coats); anodised aluminium leg inners, surface details and leg plates, metal fixings, clear glass, plastic leg caps.
Other Options: Incavo GW Square
Other Colours: Glossy Dark Grey, Glossy Beige, Walnut Black