Bar Stools – Vig White Lacquered & Walnut Veneer Bar Stool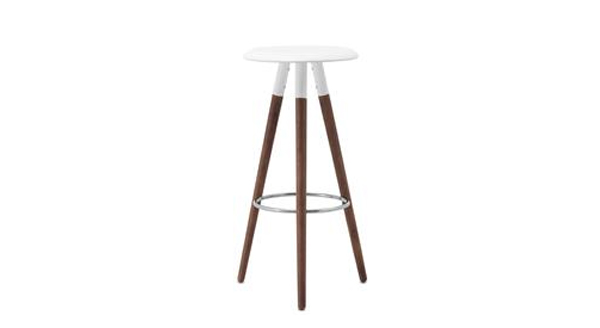 Vig barstool, also available in black lacquered/walnut veneer. As shown, white lacquered/walnut veneer. H77½xØ42cm. [Chairs – 1810] Article no.: 402018100011059
Click here to view our store locations
 Or contact BoConcept on (02) 9437 0066 for further details.
Classy Man Cave Vs. Scandi Breakfast Nook

The Vig contemporary bar stool is the perfect solution for the kitchen, bar or breakfast nook with its simple three-spoke leg design in oak and classic Scandinavian style. Complementing modern kitchen and rumpus rooms to a tee, it doesn't matter what look you're going for, the Vig will fit right in. We show you two different looks for two different rooms, the "Classy Man Cave" and the "Scandi Breakfast Nook".
1. Pine Cone Pendant  2. City Of Light 1 Photo Art  3. Oki Trays  4. Vig Bar Stool  5. Halle Mobile Cabinet  6. Refine Wall Clock
For when the guys are over, the Vig bar stools and Halle mobile cabinet are absolute essentials. Pairing functionality with sheer style, both provide a handy spot to pull up and enjoy a drink or two amongst a sophisticated copper and black setting.
1. Combi Tealight Holders  2. Handle Me Pendant  3. Vig Bar Stool  4. Hexagon Tray  5. Shadow Evening Vase  6. Lugano Highboard
No stranger to a Scandinavian setting, the Danish designed Vig bar stool works perfectly alongside the Lugano highboard, featuring plenty of additional storage space and a easy bench space for grabbing that quick breakfast snack before you run out the door.
Features
most of our bar stools have gas cartridge so you can adjust the seat in different heights
go with a bar stool with a backrest for more comfort
Delivery
Standard delivery time is 10 – 12 weeks. Please contact your store for more details.
Materials
The choice of material depends on the design of the individual chair. Please contact your store for further details
Care instructions
Fabric:
ordinary cleaning: vacuum frequently and use BoConcept textile care products for general cleaning
all fabrics can be dry-cleaned
Leather:
for general cleaning just use a dry soft cloth
we recommend using BoConcept leather care products 2-3 times a year
Contact BoConcept on (02) 9437 0066 for further details.