6 ideas for a Scandinavian style Christmas at home
Nordic and Scandinavian style is an elegant timeless look and hugely popular today because of its rustic, minimal and cosy nature. Here we've gathered inspiration from BoConcept who have been creating Danish design since 1952,  to create 6 ideas for a Scandinavian style Christmas at home. 
Scandinavian style is ideal for Christmas décor, as they know better than anyone how to make a house a home. They are inspired by natural materials, shades of muted colours and lots of wood. Their long cold winters have drawn them to create a welcoming tactile refuge from their harsh winters. The best thing of all is that this look even works in warm climates like Australia. Think pinecones, bare branches and red berries to bring a touch of Scandinavian festive spirit into your space – get inspired!
Bare essentials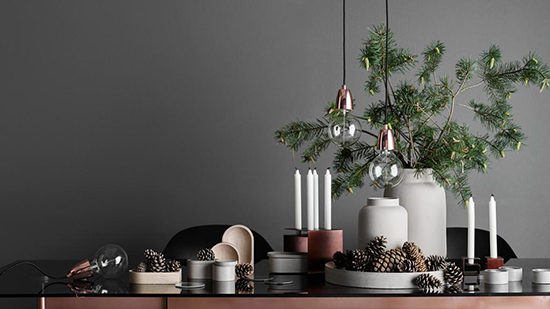 When you think of Christmas, you don't need to get your tinsel and gaudy decorations out. For a more elegant and understated look, choose accessories made from raw materials with a subtle textural element. Mix it up by opting for home accessories made from wood, cement and ceramic. Add some fir tree foliage and a few pines and you've got a beautiful seasonal look without the flashiness.
Extend a welcome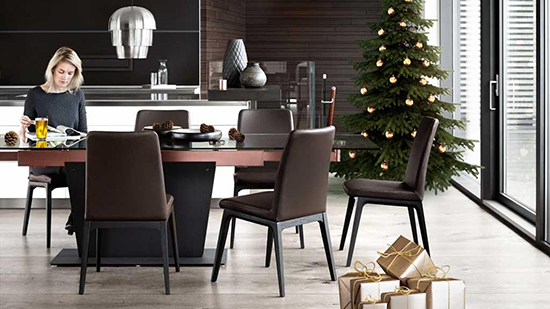 With Christmas brings extra dinner table guests, so having a well designed extendable dining table will come in handy. The Milano extendable dining table by BoConcept is a beautiful classically Scandinavian style dining table, available in a whole range of finishes. The combination of white laminate with oak legs works well for Christmas, bringing a warmth and brightness to your space. Keep your accessories white or grey with touches of greenery or berries to enhance that winter wonderland feeling. Shop the Monza extendable dining table (above).
Fruits of the forest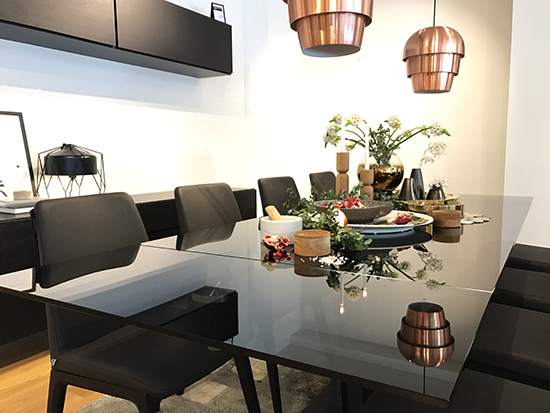 Use local ingredients to style your dining table on decorative platters and serving bowls. Eucalyptus works well as it can last up to a few weeks at a time. As it dries it often releases a beautiful fragrance of Australia bush into the room. Add hints of festive colour with pomegranate broken up and displayed on ceramic plates and bowls. A touch of gold really brings this look to life, such as these golden salad servers or the gold Living dish, a bold statement accessory perfect for putting nuts or fruit into.
Christmas tipple on the side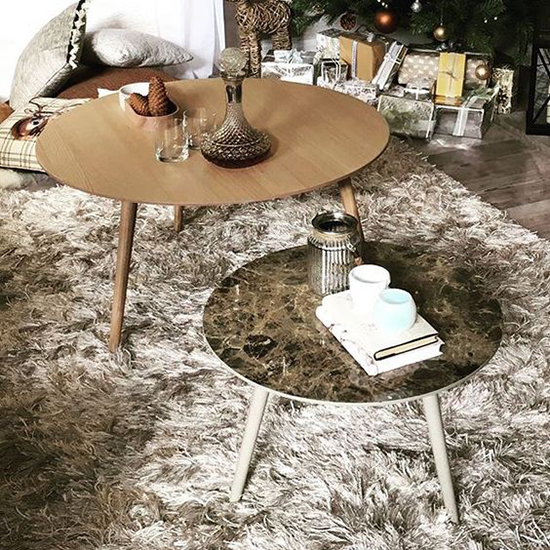 It's always enjoyable to gather around the Christmas tree with family and friends and have a nice afternoon refreshment. Whether your choice of tipple is whiskey or a cup of tea, these marble coffee or side tables are ideal for resting drinks on. Why not pop a couple of decorative accessories on such as pine cones to spread the festive vibes.
Discover BoConcept's full range online by visiting www.boconcept.com.au or pay a visit to one of their Sydney furniture stores in either Crows Nest or Moore Park. They are open 7 days a week and have plenty to inspire you for a Scandinavian Christmas.